About Us
LJ's Tops & Bottoms opened their doors in January 1993. At that time, having very young children, and needing some extra income, Larry & Judy decided to start a small business that would be a part-time venture for Judy while the kids were in school. Judy has been sewing since the age of 12, and Larry being a golf car mechanic since the age of 16, they figured why not make Golf Car enclosures! Easy, huh? Larry borrowed some money from his boss at the Country Club where he was working full-time and they bought their 1st sewing machine...and old ancient Singer…built some work tables…bought some vinyl fabric…and set up shop at home in the garage so Judy could be at home when the kids got off the school bus. Larry spoke to an old friend who owned a Golf Car dealership, and Jack said that if the price was right, and the quality was good, he would buy his enclosures from us! We were so excited…our first order! So we took an old enclosure from Jack, cut it apart, and made our very 1st pattern. Easy, huh? Well over 9 long hours later, our very 1st LJ's enclosure was finally complete!! We delivered it to Jack, and received our 1st check and we were off and running!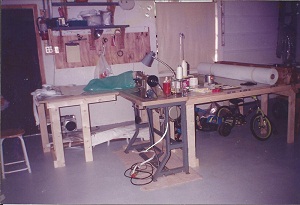 By the way….many years later, our friend Jack passed away, and his crew was cleaning out their stock room and they found that first enclosure we made…it never fit but Jack didn't have the heart to tell us!
And here we are…almost 20 years later, we employ over 35 people, ship all over the country and the world, and still remember where we started and the loyal customers who have been with us throughout this wonderful journey…and best of all….we have only just begun!!!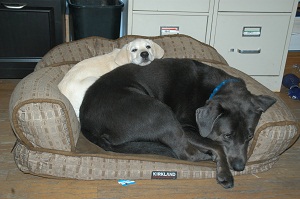 Those "young" children have joined us at LJ's and have brought with them a new and creative way of thinking…and fresh, young ideas!
And we couldn't be happier as we venture forward into future of LJ's!!